Furnace Leak Water Cleanup in Madison, CT
3/15/2023 (Permalink)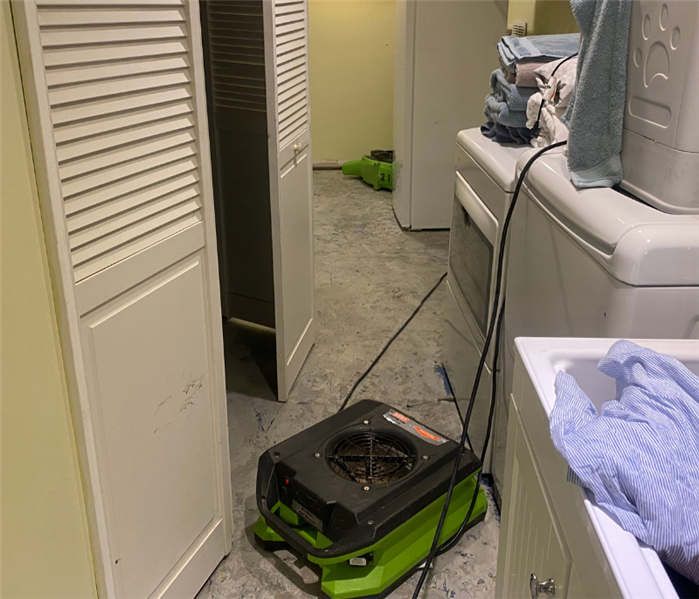 If your furnace is leaking water in Madison, CT, our team is ready 24/7 to address every trace of moisture and make it "Like it never even happened."
As a Connecticut homeowner, you likely rely on a furnace to keep your home warm during the winter months. However, you may not expect to find your furnace leaking water, which may happen due to various reasons.
If your furnace is leaking water in Madison, CT, it's important to repair both the appliance and the water damage caused by the leak. When left unaddressed, furnace leaks can lead to water stains, mold growth, and even cause cracks in your home's foundation.
Below, we've listed the top causes for a furnace leak, as well as what you should do when you find water leaking from your furnace.
Need Immediate Assistance? Call Us Today - 860-388-1776
Why Is Your Furnace Leaking Water in Madison, CT?
Condensation leak. If you have a high-efficiency furnace, a condensation leak is likely the issue. High-efficiency furnaces naturally produce condensation that runs through a condensate drain. If the condensation tubing or floor drain becomes blocked or clogged, the condensation could drain back to the furnace and leak out.
Humidifier problems. Some homes have a humidifier attached right to the furnace, which uses water from your home's plumbing system to add to the air. However, if the water lines break or crack, it could cause water to leak from the humidifier.
Internal drain system clog. If your furnace is leaking during the summer months, it may be due to a clog in the internal drain. Sometimes the AC shares an internal drain with the furnace, and if dirt or dust clog up this drain, it could cause water to leak out under your furnace.
Faulty secondary heat exchanger. In a high-efficiency furnace, when the secondary heat exchanger transfers leftover combustion into heat, water vapor forms. If the water leaking from your furnace is caused by a cracked or broken secondary heat exchanger, it must be replaced immediately.
What Should I Do If My Furnace Is Leaking Water?
Turn your furnace off immediately. You want to turn off your furnace as soon as possible to prevent water damage or an electrical hazard. To turn your furnace off, you can either turn off the thermostat or the furnace switch, then shut the unit off at the breaker.
Clean up the water. Once your furnace's electrical circuit is safely shut off, you can begin to wipe up any puddles of water using towels, a mop and bucket, or a wet dry vacuum.
Call an HVAC professional. An HVAC technician can complete the needed repairs or replacements to fix your leaky furnace.
Seek help from an expert water damage restoration company. If the water was sitting for an extended period of time or if there was a substantial amount of standing water, you want to seek assistance from a professional water damage restoration company. SERVPRO of Old Saybrook provides expert furnace leak water damage cleanup in Madison, CT to ensure all affected areas are properly dried and restored.
Expert Furnace Water Damage Restoration in Madison, CT
Cleaning & Sanitizing

Free Estimates
When you find water leaking from your furnace, you want to make sure the affected area is properly dried to prevent structural damages or mold growth from occurring.
As your local water damage restoration company with over 15 years of experience in furnace leak water damage cleanup in Madison, CT, you can trust SERVPRO of Old Saybrook to handle any size appliance leak. Our team of IICRC Certified technicians are highly trained and even use specialized drying and dehumidification equipment to ensure your home is restored to its original condition.
When you need expert and efficient furnace water damage restoration in Madison, CT, SERVPRO of Old Saybrook is ready to make the water damage from your leaky furnace "Like it never even happened."
Get 24/7 Furnace Leak Water Damage Cleanup in Madison, CT - 860-388-1776